Dharma Teachers of Cloud Mountain Retreat Center

Teachers are listed alphabetically by first name, with monks and nuns given priority. You may also enter any part of a name in the text box and click "Find Teacher by Name."

Ajahn Sumedho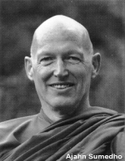 Ajahn Sumedho is a prominent figure in the Thai Forest Tradition. His teachings are very direct, practical, simple, and down to earth. In his talks and sermons he stresses the quality of immediate intuitive awareness and the integration of this kind of awareness into daily life. Like most teachers in the Forest Tradition, Ajahn Sumedho tends to avoid intellectual abstractions of the Buddhist teachings and focuses almost exclusively on their practical applications, that is, developing wisdom and compassion in daily life. His most consistent advice can be paraphrased as to see things the way that they actually are rather than the way that we want or don't want them to be ("Right now, it's like this..."). He is known for his engaging and witty communication style, in which he challenges his listeners to practice and see for themselves. Students have noted that he engages his hearers with an infectious sense of humor, suffused with much loving kindness, often weaving amusing anecdotes from his experiences as a monk into his talks on meditation practice and how to experience life ("Everything belongs").
Alexis Santos


Alexis has practiced Insight Meditation in India, Burma and the US since 2001. He has been a long-time student of Sayadaw U Tejaniya, including several years of training as a Buddhist Monk under his guidance. Alexis' teaching emphasizes knowing the mind through a natural and relaxed continuity. He brings a practical, intuitive and compassionate approach to the development of wisdom and qualities of the heart.
Andrea Fella


Andrea Fella is the co-teacher at the Insight Meditation Center and the Insight Retreat Center. She has been practicing Insight Meditation since 1996, and teaching Insight Meditation since 2003. She is particularly drawn to intensive retreat practice, and has done a number of long retreats, both in the United States and in Burma. During one long practice period in Burma, she ordained as a nun with Sayadaw U Janaka. Andrea is especially drawn to the wisdom teachings of the Buddha. Her teachings emphasize clarity and practicality. Andrea is a member of the Spirit Rock Teachers Council, and teaches residential retreats for IMC and other retreat centers around the country
Arinna Weisman


My teaching practice and my personal practice continually intertwine, each weaving a pattern in the larger tapestry of the Dharma. The theme that threads itself throughout my practice relates to the tremendous pain and suffering, the challenges and difficulties that so many beings face, and the possibility of awakening from this suffering. From this immediate calling I've woven the purpose of my life.


Deborah Ratner Helzer


Deborah Ratner Helzer has practiced with Western and Asian teachers in the Theravada tradition since 1995, including a year as a nun in Burma. She has been teaching in the Washington, DC area and assisting with retreats around the country since 2001.
Hla Myint


U Hla Myint has 22 years of monastic training and a PhD in Buddhist Studies and Pali language. A former assistant meditation instructor at Mahasi Meditation Center in Burma he remains a close disciple, translator and teaching assistant of Sayadaw U Pandita. He has translated numerous Burmese dhamma books and dhamma discourses and has authored Meditation Lectures, Conditional Relations in Daily Life (from the abhidhamma) and Pali Language Lessons for English readers. For many years, he has taught the Theravada Tradition to the students of the Antioch College Buddhist Studies Program in Bodh Gaya, India. He resides part-time in San Jose, CA and Pyin Oo Lwin, Burma.
Jitindriya


Jitindriya (aka Loraine Keats) has been practicing Buddhist meditation and spiritual inquiry for over 30 years, 17 of which was as a Buddhist nun (Ajahn Jitindriya) in the Thai Forest Tradition of Ajahn Chah and Ajahn Sumedho. Jitindriya has taught meditation internationally and has a Master's degree in Buddhist Psychotherapy Practice. She lives in Northern NSW, Australia where she teaches meditation and Dhamma, and offers mindfulness-based psychotherapy for private clients.
Kamala Masters


It has long been important for me to offer the purity of the teachings of the Buddha in a way that connects with our common sense and compassion as human beings, which allows for the natural blossoming of wisdom.
Mark Nunberg


Mark Nunberg began his Buddhist practice in 1982 and has been teaching meditation since 1990. He co-founded Common Ground Meditation Center in Minneapolis, MN in 1993 and continues to serve as the center's guiding teacher.
Shelly Graf


Shelly Graf is Common Ground's Associate Director and is currently being trained by Insight Meditation Society as part of their four-year Teacher Training. (Note: Shelly uses they/them pronouns.) They are a staff dharma teacher, like Mark Nunberg, the Guiding Teacher. Shelly provides direct support to the guiding teacher with developing and clarifying the center's vision, policies, and priorities. Currently they teach Mindfulness-Based Stress Reduction, Weekly Practice Groups, and co-lead the DharmaCore Queer Meditation Community.